Long time no see, I'm back with another shoe review. This time I'll be exploring my thoughts on the new Hoka Clifton 8. Hoka One One has really became popular in the last 4 years due to the maximal cushioning and lightweight feel a majority of their models have. They suit the needs of many people; walking, running, standing, or relaxing. In the past few years they have done a great job appealing more to the masses, straying away from the aggressively-orthopedic-looking shoe. They want to compete with the hobby jogging king, Brooks. I believe they can definitely do so!
SUPPORT: Neutral
HEEL TO TOE OFFSET: 5 mm
WEIGHT: 8.9oz women's / 9.1oz men's
USE: Road running, walking, max cushioning
SURFACE: Road, Gravel, Track
Preview by Scoob: I think we are finally getting to the point where almost no one can say "Hmm haven't heard of that before" when they see the brand Hoka. Maybe one day we can get everyone to pronounce it correctly too, not "Hoo-kah" it's "HO-Kah". The rest of the name is One One, which is even more confusing because instead of that being "one(1) – one(1)" it's Oh-Ney Oh-Ney. This is a New Zealnd Maori language's way of saying to "to fly over the earth". Pretty cool if you ask me. Hoka got started in France as a contrast to the popular methods and styles of minimalist shoes at the time. The brand was embraced by ultramarathon runners, people who -actually- -really- run. Since then they have expanded to make footwear with the goal to fit everyone's needs and help them "fly". Okay sorry for the history lesson.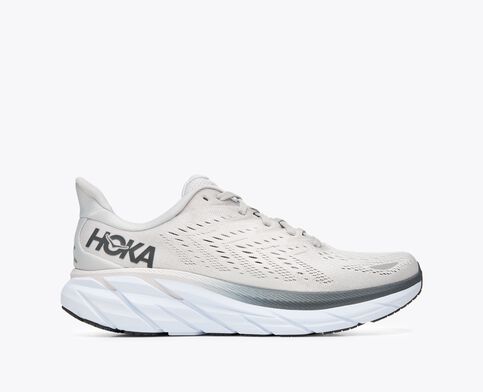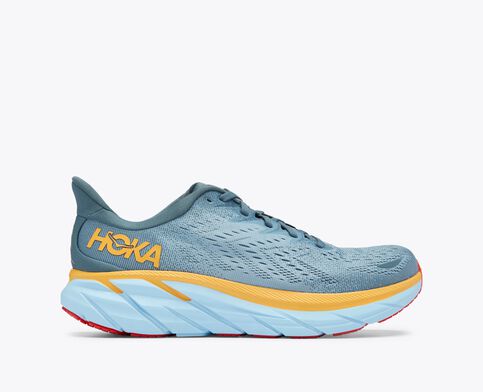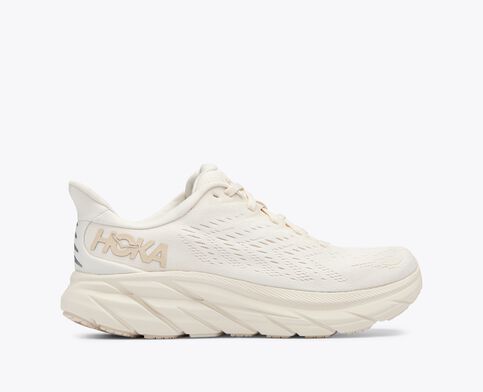 I've had a few models of the Clifton before. It's been a solid shoe; real comfortable, pretty versatile, crazy lightweight. I had always liked how Hoka uses a metrocker midsole, which is a dynamic curvature to help you go heel-to-toe smooth, quick and efficiently. This aims to help reduce the bang and pound your body, shins, knees, back, etc. take. My opinion and the opinion of friends who have tried it is that this holds pretty true. One bicker I tended to have with the Clifton is its durability in the upper. I had the tendency to tear the upper material along the inside of the shoe by my arch. This is mostly to blame my wide square foot. When I wear a wide it doesn't happen as quickly, and with the newer models it hasn't happen yet.
If the Shoe Fits: When I first slipped on the Hoka Clifton 8 I noticed the firm heel cup. I then noticed the plush tongue. Both of these helped my foot feel really secure. Because of the high amount of cushion many people feel a high push on their arch from Hoka's. I don't really notice is and I have a super flat foot, I think the wide models can tend to help with that feeling, hence why I don't really notice it. Walking around I felt great and appreciative of that maximal cushion paired with the lightweight feeling upper, great shoe to just wear everywhere because they have a bunch of colors. Fun Christmas idea would be to get a matching pair with your partner! I have no complaints wearing this new model of the Clifton.
Performance Review: I've done hill workouts and longer interval reps/tempo runs in the Cliftons before, but I really think this model is best for everyday miles and long runs. So that's what I tried it out for. They were some great runs! That unique metarocker really helps you keep the ball rolling and find a smooth rhythm in stride. It feels like I can just cruise and not really think about what I'm doing. I keep coming back to the lightweight aspect of the shoe because that is something that is unique to Hoka and continues to blow me away. It makes this shoe great for those longer runs and has potential to be versatile in your uptempo runs and workouts. If you don't look for a plated shoe on race day, it would hold up and feel great too.
Do you have an endurance race planned? No? Check our race Calendar!
Want to make sure you are fueling for success. Try Ultraverse Supplements, their daily supplement, T-30, is endurance athlete oriented, improving focus, fat oxidation, muscle aerobic capacity, and cortisol regulation. To recover, their Terminus supplement once again ensures you have all you need as an endurance athlete with optimal 4:1 carbs to protein with the tested best 70:30 pea/brown rice protein blend, only the most effective ingredients. Try it today at ultraversesupplements.com and use code Noah10 for 10% off your purchase.
Previous Model: Hoka Clifton 7
Comparable to: Nike Pegasus, Saucony Ride, Mizuno Wave Ride, Asics gel nimbus, On Cloudflyer, Diadora mythos volo, New Balance 880.
Conclusion:
Hoka continues to improve their models to meet the needs of the masses. They even look better too. I will keep this shoe in my rotation for easy miles, and also really enjoy wearing it for everyday life; walking and standing at work.
Not certain if this shoe is right for you?
We understand! There are a lot of options of footwear on the market and deciding what model is the right model for your needs is not easy. We are here for you! You can come for a free gait analysis. No appointment is necessary, but if you would like to schedule an appointment, click here. We hope to hear from you soon!