Brooks Glycerin 20
The Brooks Glycerin is one of Brooks longest running models, designed to be a max cushioned shoe can go the distance while consistently delivering a smooth ride. The last few generations of this model have really impressed me, and have been one of my favorite – wearing to work shoes, long run shoes, & easy run shoes. This new model explores Brook's new Nitrogen infused foam, DNA Loft V3. Will this improve upon the already great shoe? Or will it be a faulty improvement leading the model astray. In my opinion….
SUPPORT: Neutral
HEEL TO TOE OFFSET: 10 mm
WEIGHT: 9.0oz women's / 10.1oz men's
USE: Road running, walking, max cushioning
SURFACE: Road, Gravel, Track
Preview by Scoob:
Any time someone brings up the glycerin I get excited. Working in the run specialty biz' for over 3 years I have defended the model and used it as an example to tear down the balcony that the Ghost has built up from the general assumption that "it is the perfect and only shoe for me". 99 times out of 100 The people saying this is wrong. I won't diss the Ghost it is a great shoe and fits a lot of peoples needs and foot. But the Glycerin has always been way better in my mind; a way more dynamic and better fitting shoe for only 20$ extra. You'd pay 20$ more for the better fitting and better feeling shirt(the one you have worn 3-5 times since last year); so why don't you invest in the better shoe that you will wear for 450 miles? Okay, sorry for the ranting. This new model of the glycerin is a - pinch hitting at the top of the 9th when you up by 1- type of change. There was nothing wrong with the older model, and Brooks was doing well as a brand overall. But his new foam could help them separate themselves from other brands, and from the older Brooks. And you know what… I think they did.
If the Shoe Fits:
This new model is springy. The energized foam really fills out the length of your foot in the shoe. I think they nailed the upper. This is still a SUPER comfy shoe that feels more on the plush side, but with that more responsive foam that also feels lighter. I initially thought the added foam would made the shoe way heavier, but was wrong. It still has the nice hug of a Brooks shoe that I associate with the rounded and roomier fit and plush heel cup. The upper is nice and breathable, and everything just feel like it's in the right place in these shoes. I think this will be a popular shoe to wear to work; pair you can wear all day and find no complaints from your feet. The geometry of the midsole feels very supportive standing around and walking/running. I have always thought the Glycerin hugged the middle of the foot better than the Ghost, and a lot of the shoes out there. This model still does thankfully, I think it feels more supportive possibly due to the new foam.
Performance Review:
The glycerin is coined as the ideal long run shoe. So I would feel hypocritical if I didn't do a long run in it before reviewing it. I took the boys out for a 16 mile spin on mixed surfaces; concrete, asphalt, and turf. Overall great performance with consistent cushion and support where I needed it. The V3 DNA Loft foam has some energy return that kept some pep and snap in my stride. I think the shanks through the midsole allow for a great flex and range of motion in the shoe that you could take them out on a threshold/uptempo run. But I will be saving these for the long easy runs to capitalize and relax in the nice max cushioning they have to offer. The upper hugs the foot real well and diminishes any lose-feeling slippage. This model also comes in a gts(stability) version, and a stealthfit(flyknit) version.I think this shoe has a high performance capability and overall high comfort level than the ghost to make it a -NO CONTEST- battle when deciding between the two.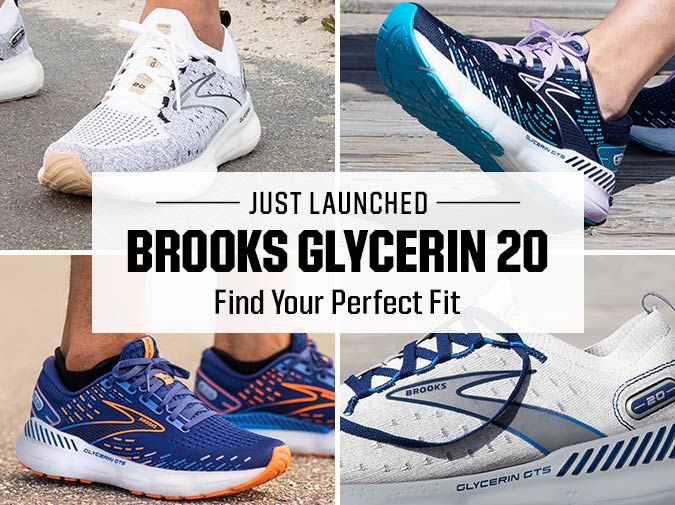 Do you have an endurance race planned? No? Check our race Calendar!
Want to make sure you are fueling for success. Try Ultraverse Supplements, their daily supplement, T-30, is endurance athlete oriented, improving focus, fat oxidation, muscle aerobic capacity, and cortisol regulation. To recover, their Terminus supplement once again ensures you have all you need as an endurance athlete with optimal 4:1 carbs to protein with the tested best 70:30 pea/brown rice protein blend, only the most effective ingredients. Try it today at ultraversesupplements.com and use code Noah10 for 10% off your purchase.
Previous Model: Brooks Glycerin 19
Comparable to: Nike Pegasus, Saucony Triumph, Mizuno Wave Sky, Asics gel nimbus, hoka Bondi, On Cloudmonster, Diadora mythos Vortice, New Balance 1080.
Conclusion:
I was really impressed with this new Glycerin. The new foam gets my seal of approval. I'm interested to see how they continue with the experimentation of new foams in their current lines. I'm excited to keep this shoe in my rotation and to keep the ball rolling on long runs with the great energy return and soft cushioning in this Glycerin 20.
Not certain if this shoe is right for you?
We understand! There are a lot of options of footwear on the market and deciding what model is the right model for your needs is not easy. We are here for you! You can come for a free gait analysis. No appointment is necessary, but if you would like to schedule an appointment, click here. We hope to hear from you soon!