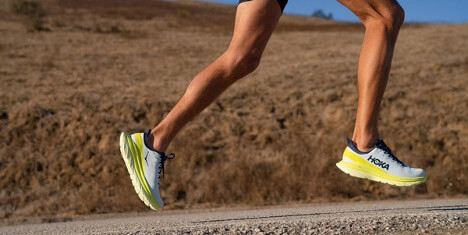 The Hoka Mach 4 is designed for logging long miles, this everyday trainer delivers a lively ride and energetic underfoot feel that is unquestionably HOKA.
Preview from Scoob
This is my favorite Hoka shoe to date. I have been a fan of the Clifton and the Bondi as well as the Arahi. All of them provide great cushion while keeping the shoes lightweight. I think this model of the Mach 4 is one of the best shoes in Hoka's current line, and in the entire running shoe market right now.
SUPPORT: Neutral
HEEL TO TOE OFFSET: 5 mm
WEIGHT: 7.1oz women's / 8.6oz men's
USE: Road Running, jogging, racing, walking, max cushioning
SURFACE: Road, Gravel, Track
If the shoe fits
The midsole of this shoe is the star of the show in my opinion. It certainly is different than that of the Clifton or the Bondi, but it isn't missing that real soft absorptive cushion that most people desire and are maybe familiar with. It is filled with Hoka's Profly foam in the midsole that is like a hug for your feet. Below that is a EVA rubbery foam outsole that keeps the shoe feeling solid and adds a shot of espresso in your stride.
This combo leads the shoe to still feeling real soft but not sloppy. The awesome duo of foam is accompanied by a meta-rocker that most Hoka fans are familiar with, and I personally enjoy. This helps you ride heel-to-toe real smooth, featuring a bit of a 'pop' with that rubberized EVA foam outsole. The heel has the current swooping back trend that a lot of brands are trying that helps the achilles feel really comfortable. The tongue is nice, thin, and gusseted. The lacing is comfortable and keeps you locked in. I do not have a 'D' wide shoe in this like I normally do with the Bondi and Clifton. While it is maybe a bit snug width wise, there is definitely more space and comfort in this B width toe box and material than some of the brand's other models.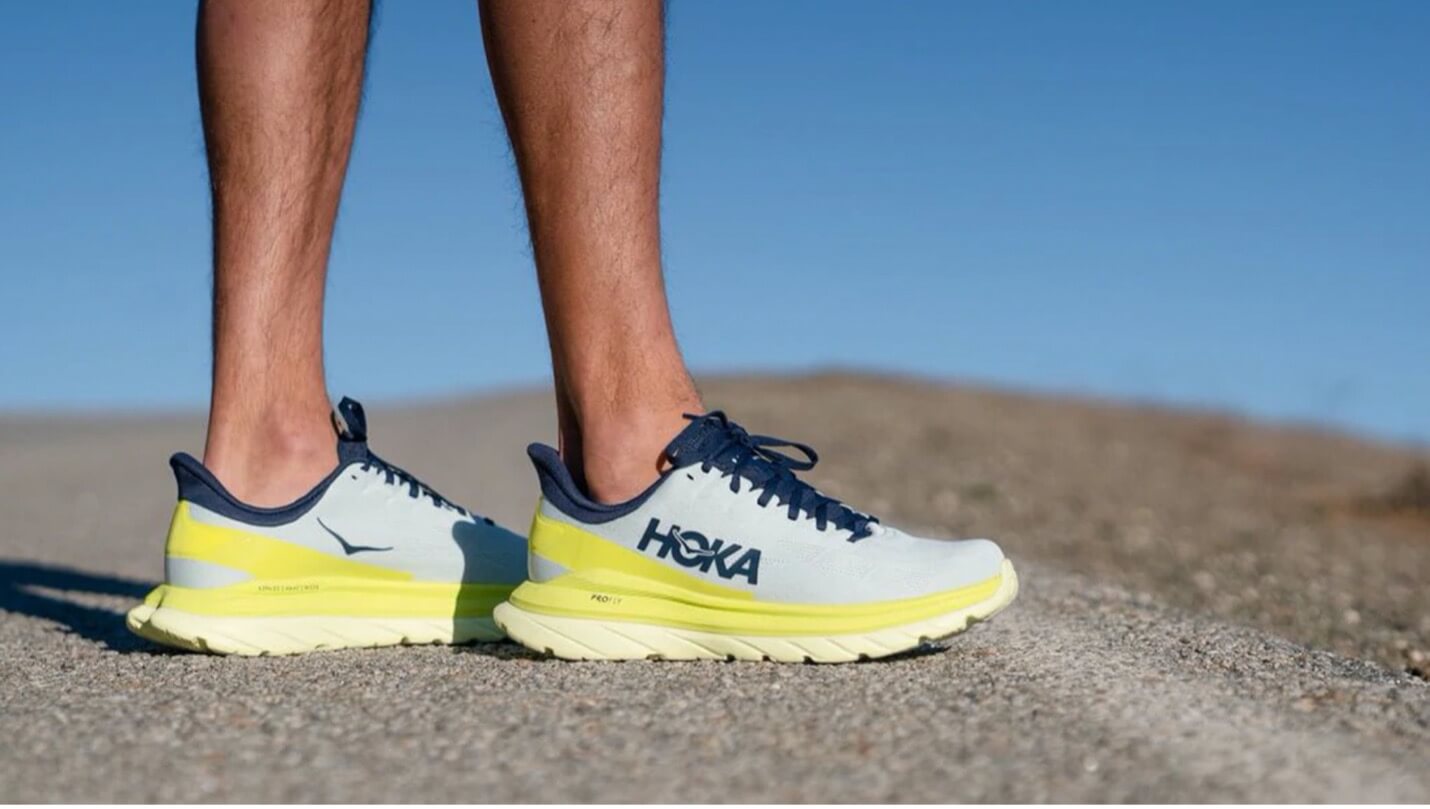 Performance Review
I think this shoe can do it all from everyday easy miles, to up-tempo workouts, to a weekend race-day shoe. I have gotten over 150 miles in these shoes and still love how the feel. They seem to hold up great, with that EVA outsole that seems nice and durable and the still super soft Profly midsole. I have done a variety of training with this shoe on a variety of surfaces, concrete, asphalt, gravel, dirt, and grass. It felt great on all of them. Before this shoe I really like the Arahi 4 because it seemed to be really versatile. In that boxing match, the Mach 4 knocks the Arahi out first round. I previously really liked the Bondi or Clifton on my recovery runs. But, I think I still choose the Mach 4 over those two for some of those 'trashed legs garbage miles'. Might be a hot-take but if Hoka was to put a plate in the midsole of this boy it would knock heads with the Saucony endorphin speed.
Previous Model: Hoka Mach 3... bad
Comparable to: Mizuno Wave Rebellion, Asics Novablast 2, New Balance Rebel V2, Reebok RunFast 3
Conclusion
Hoka did everything right with this model. It is one of my go to shoes right now and might be one of my purchases for the summer mileage shoe rotation. If you happen to be a fan of Hoka and want to try something different give this shoe a shot. Someone who is just looking for a soft but versatile shoe for training - maybe a high schooler looking for a "summer cross country mileage and workouts" shoe – give this shoe a shot. If you do a lot of walking, or if you spend time on your feet at work, or if you are a parent that needs a comfortable shoe that can help you keep up chasing your kids around this summer, give this shoe a shot.