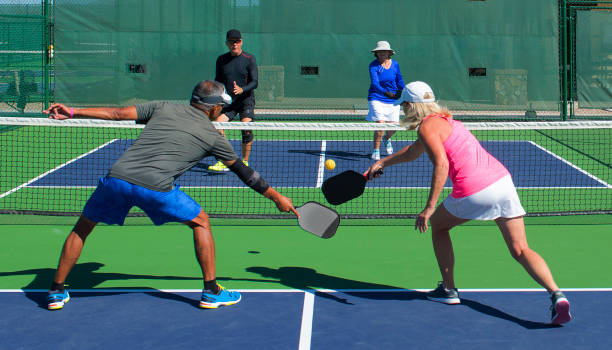 Ever heard of pickleball? This sport has been sweeping the nation as it is fun and easy to be competitive at any age. We don't have the paddles or the wiffle balls but we do have some gear that could help you dive into this new sport, or up your current game. While having a tennis-specific pair of shoes would be optimal for the sport, the shoes we'll carry and mention can be used comfortably for more than just tennis or pickleball. We'll start by highlighting our top 6 choices.
A shoe designed in Italy, made specifically for pickleball, the Trofeo utilizes technologies from their tennis shoe lines to create a new top performance pickleball specific shoe. A Suprelltech and Air Mesh upper keep the shoe plenty breathable while also providing plenty of stability.EVA foam in the midsole combined with Double Action technology provides optimal midfoot cushioning and flexibility and the Duratech 5000 outsole features wear-resistant rubber for enhanced traction and durability and stellar pickleball play.
Altra Solstice XT 2
We have gotten great feedback on the Altra Solstice. With Altra's signature wide toe box, this shoe is ready to get active. The caged upper is firmer than the previous model, and the toe reinforcement promotes toe protection. It's the ultimate cross-trainer, built for all your workout needs. The low stack height and heel drop will help you feel stable during a pickleball battle. No matter how you break a sweat, the Solstice XT 2 is always up for one more rep.
Under Armour's amazing energy-returning UA HOVR™ cushioning meets the flexible stability of our UA Tribase™outsole in the Rise 3. That means every movement becomes more explosive. Meaning you can get across court and back that much quicker too. Great tread and grip to help with multi-directional traction and durability.
The highlights to the Nano X1 are its durability, with a Flexweave® woven textile upper provides resilient stretch and targeted support at key performance areas, and its flexibility and responsive forefoot. Floatride Energy Foam provides lightweight, responsive cushioning. Perfect for needing to be quick on your feet in any direction.
Lightweight, rubberless, and durable, our newest cushioning gives a close-to-the-ground, grippy feeling of speed. The Velociti Wind's outsole is also super durable and combined with the Warp™ upper, optimizing containment with lightweight lockdown & allows maximum breathability. This is our do-it-all shoe that screams pickleball.
The Freedom 4 packs a fast, springy feel to get you anything. Updated with ultra-light, high-performance PWRRUN PB cushioning and the ability to better handle lateral movement, its versatility is ready to take on whatever you want, wherever you want. The crafted details—a suede tongue, debossed logos, and hidden reflectivity—make for a truly high-performing shoe that can be worn all day.
Honorable Mentions:
Brooks Levitate, On Cloudflyer 3, Altra Torin 5, Brooks Revel 5, Reebok Energy 3.
THE

Sock

This sock is literally "THE pickleball sock". The AC4® is built with nano-bamboo charcoal cushion where it counts and OS1st's cooling Skin Thin™ Technology for temperature regulation, eliminating blisters. Made for everything from exercise to everyday, this sock features contoured padding, blister protection, and light-to-moderate compression for support and fit.
Apparel
Lululemon Pace Rival Skirt
Lululemon Surge Short
Many of our Lululemon apparel (in store only) has built in liners, which feel great and reduce the laundry load also. Make sure you are dressed well for the weather conditions. If you are playing outside, maybe have a pair of joggers on. Indoors? Keep cool and keep the layers to a minimum so you can move well.
Other Apparel
Nike Stride short (men), Nike Eclipse Short (women), MRC Performance tank (women), MRC perfromance tee (men), MRC Joggers.
Other Accessories

There are also many great pickleball players out there who have a signature look with their choice of sweatbands. Sweatbands may not be as flashy as other items in an athlete's gear bag, but they are important nonetheless. These bands help absorb perspiration so you can focus on your game instead of dripping sweat. Our selection of sweatbands can be found here.
Pickleball players wear sunglasses to keep their eyes from being strained by the sun. They also provide protection from glare and help with depth perception. Pickleball is a fast-paced sport, so it is important for pickleball players to be able to see clearly at all times. Wearing sunglass in pickleball court is a style too. Shop our most popular brands and styles here.