The Wave Rebellion silences the little voice in your head that says you've reached your personal best. Let the grip of the G3 outsole, cushion of the MIZUNO ENERZY LITE, lightweight design and 3D Runbird logo push you to perfection. Look to the Wave Sky 5 for a lighter weight, improved fit due to the woven upper and higher energy return from the MIZUNO ENERZY CORE: our most responsive material yet.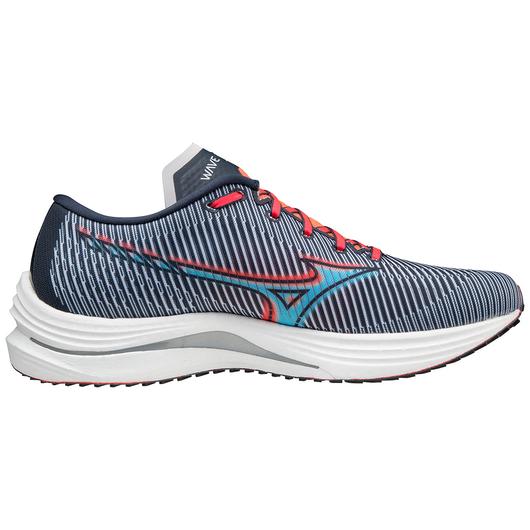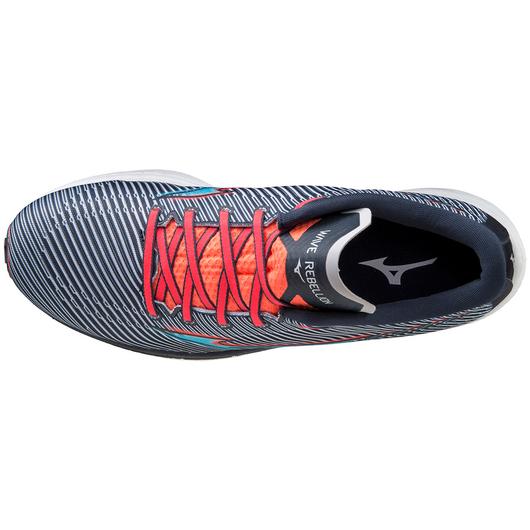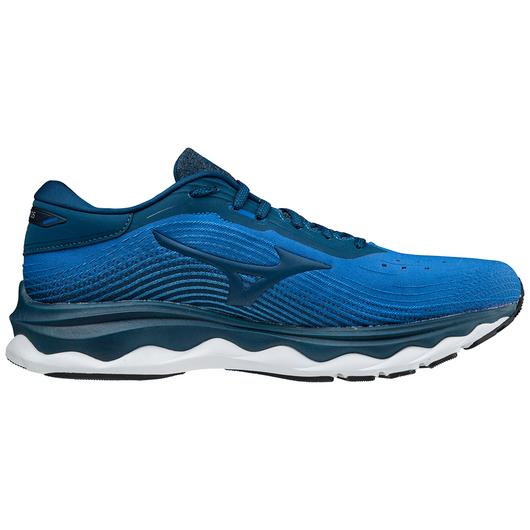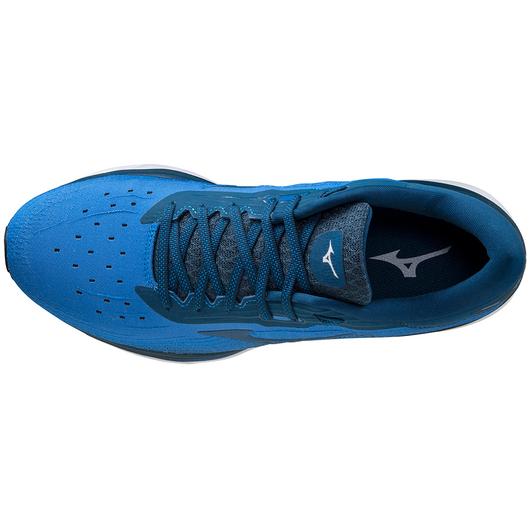 SUPPORT: both Neutral
HEEL TO TOE OFFSET: 8mm & 8mm
WEIGHT: 7oz women's / 8.8oz men's
USE: Road Running, jogging, racing, walking, max cushioning
SURFACE: Road, Gravel, Track
Preview by Scoob:
In this review will talk about these two very different shoes that Mizuno has recently released. The Rebellion is essentially their take at the endorphin speed, as an every day trainer that can be versatile by feeling exceptionally springy with a fiber glass plate in the heel to the middle of the foot. It is incredibly light and could be used for all types of training and racing. The Sky 5 on the other hand is very high cushioned and and looks to improve on its previous models by being lighter, having a better fit, and more energy return. Both shoes are comfortable and have a lot to offer for Mizuno lovers.
If the Shoe Fits:
As I slipped my foot into the Wave Sky 5 I quickly realized the toe box accompanied my wider foot more-so than previous Mizuno models. This was one goal that our Mizuno rep discussed with us before the new line of shoes were out. In addition to that I noticed the max cushioning and comfortable heel cup. The shoe really hugs your foot well with it's all around plushness. One thing I initially thought, was that the shoe lacked support on the arch. I have a pretty flat foot so this isn't normally a problem or concern. After slipping in a low profile currex I felt the support and the shoe fit even better.
I did notice the weight of the shoe. While the upper is nice and thin and prevents the shoe from feeling too bulky, it is somewhat hard to ignore the weight when walking around. While a lot of max cushioning shoes are around the 10oz mark, this model does push into the 11oz. This really isn't an issue and is just something you have to deal with if you want a max cushioning shoe. The tongue was nice and thin too which also helped it not feel too bulky. Another plus is that the shoe is made from recycled materials!
The Rebellion was a major difference from the Wave Sky, obviously. This shoe feels light and fast, while also having pretty great support. The initial and only complaint I had towards the feel of the shoe was that the tongue has a little too much material. Not sure what they were doing there. Another initial reaction was that I loved the design and color pattern as well as the feel of the material to go along with it. I noticed the plate and foam combo that felt like it was absorbing my weight and helping the shoe feel very stable. The new grip on the outsole was really intense, I felt like it could stop on a dime and change pace really well if I wanted. This model also followed the trend of having enough room in the toe box for my wider foot, sweet! Mizuno nailed the heel cup in this model as well. Overall, the Wave Rebellion is a really comfortable shoe. Another major plus with this shoe is it is made with eco-friendly materials! Great work Mizuno!
Performance Review:
Wave Sky 5: My first several runs in the Wave Sky 5 were shorter to medium runs mostly on doubles. The surfaces were anything from track, to grass, to gravel, to asphalt. With that currex insole the shoe felt real comfortable. I could feel and appreciate the energy return in the Enerzy Core that was pairing well with the soft plushness. I wouldn't want to do anything faster in these shoes because of the weight, and while they were responsive they didn't have the pop of their rebellion model. That being said this shoe could find its way in my rotation for easy runs. The comfort of the heel cup and greta fit along the middle of the foot to the toebox really made the shoe hard to take off. I could walk and stand in it all day and feel really comfortable. The upper material breathed well too. Definitely a major upgrade in performance from the previous Sky 4 models, and a double upgrade in overall comfort (and looks).
Tech Specs:
MIZUNO ENERZY CORE: New advanced midsole material delivering the most resiliency and softness. It improves comfort and adds spring to drive optimum performance.
MIZUNO ENERZY (FOAM): Offering versatility in its application, while still maintaining softness and resilience. It will help enhance performance capabilities.
MIZUNO WAVE®: The MIZUNO WAVE® disperses energy from impact to a broader area providing a stable platform and a superior cushioning.
X10 Outsole: Durable carbon rubber that allows for longer wear.
Stretch Woven Upper
The first time I ran in the Wave Rebellion, I knew it was going to be in my rotation of shoes for a while. The responsiveness and energy return from the glass fiber Wave plate excited me and made me feel quick and springy. I felt this in addition to the Enerzy Lite midsole and the G3-DR outsole, which was super grippy. The shoe felt fast but didn't feel forced. I was skeptical of the plate not going the length of the foot like it does in Saucony's Endorphin Speed. But, with the goal of this shoe being more oriented towards everyday miles, while having the versatility for high quality and faster training/racing, I believe the technology accompanies this very well. I think outsole grip might be the sneaky best part about the shoe. I haven't really ran in any trainers that had such a large focus with the outsole technology and orientation. The Wave Rebellion does it exceptionally well. Mizuno says they did this with even less weight in mind as well. The G3- DR adds durability in key contact points.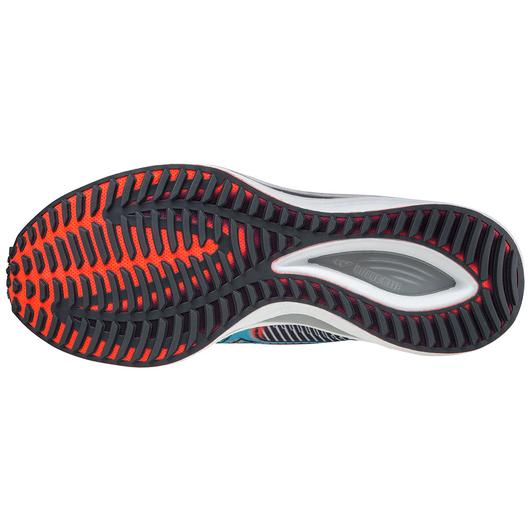 Mizuno recognizes that most people run with a heel strike, so most of what went into this shoe was focused towards that. When running with more of a forefoot strike, I don't notice the plate as much, and even less so when sprinting during some strides. I think this just attests to the fact that this shoe is aimed to be a super high quality everyday trainer. That being said I love using this shoe for easy miles and maybe some threshold work. I have some other favorites for tempo speed stuff but this shoe could find its way in there as well.
Tech Specs:
MIZUNO ENERZY LITE
MIZUNO WAVE®: The MIZUNO WAVE® plate disperses energy from impact to a broader area providing a stable platform and a superior cushioning.
G3 Outsole: Outsole provides superior grip with less weight. G3-DR provides added durability in key contact points.
Eco Friendly Materials
Previous Models: Sky Wave 4, also Sky Wave 4 Waveknit. Wave Rebellion is a new model.
Sky 5 Comparable to: New Balance 1080, Saucony Triumph, Hoka Bondi 7, Asics Gel Nimbus, Nike Invincible, Brooks Glycerin,
Wave Rebellion Comparable to: Saucony Endorphin Speed 1 and 2, Saucony Endorphin Shift, Nike Zoom Fly 3, Asics Metaspeed Sky, On Cloudstratus, Hoka Carbon X,
Conclusion:
I like the direction that Mizuno is going with both of these shoes. I think the Wave Sky 5 will be a great trainer for a lot of people looking for a high cushioned shoe. The Wave Rebellion can be a great addition to most people's shoe rotation if they need or want a more uptempo shoe that could also be used in longer races. The improvement to the Sky with a wider toe box and softer feel while maintaining a good amount of responsiveness and energy return is very nice. The new model of the Wave Rebellion makes me excited with the future and the possibilities Mizuno can play around with like the fiber glass plate. I also am excited that they are looking to be environmentally conscious with the materials they are using. Come in to the store and give them a try and give some feedback!