New Balance 880V12
The New Balance 880 is one of New Balances longest running models, designed to be a workhorse shoe that can suit a wide range of athletes looking for a high cushioned neutral ride. In the past this shoe has been, in my opinion, good, but not great. This newer model however has surprised me and places itself towards the top of my wish list. Read on to find out why…
THIS SHOE RUNS A HALF SIZE SMALL GO UP A HALF SIZE
SUPPORT: Neutral
HEEL TO TOE OFFSET: 8 mm WEIGHT: 9.4oz women's / 10.5oz men's
USE: Road Running, jogging, racing, walking, max cushioning
SURFACE: Road, Gravel, Track
Preview by Scoob: New Balance seems to be a brand that everyone has worn once in their lifetime. Whether it's the "grandpa shoes" 990 or a similar model, I think most people view new balance as a more casual everyday shoe brand. But did you know they have some stellar high performance running shoes in their line though? As a matter of fact, the newest World Champion 1500m runner is a British athlete who is sponsored by new balance. They also have an elite training group here in the states with the likes of Emma Coburn, Cory McGee, and Dani Jones. Have you heard of a little someone named Sydney McLaughlin? How about Treyvon Bromell? These are all top tier Olympic caliber athletes that I think of when I think of New Balance. The topic of discussion in this review, the 880v12, is a staple for many of those athletes. The comfort and honestly the great style these shoes have make it a shoe that can really be for anyone and do just about anything.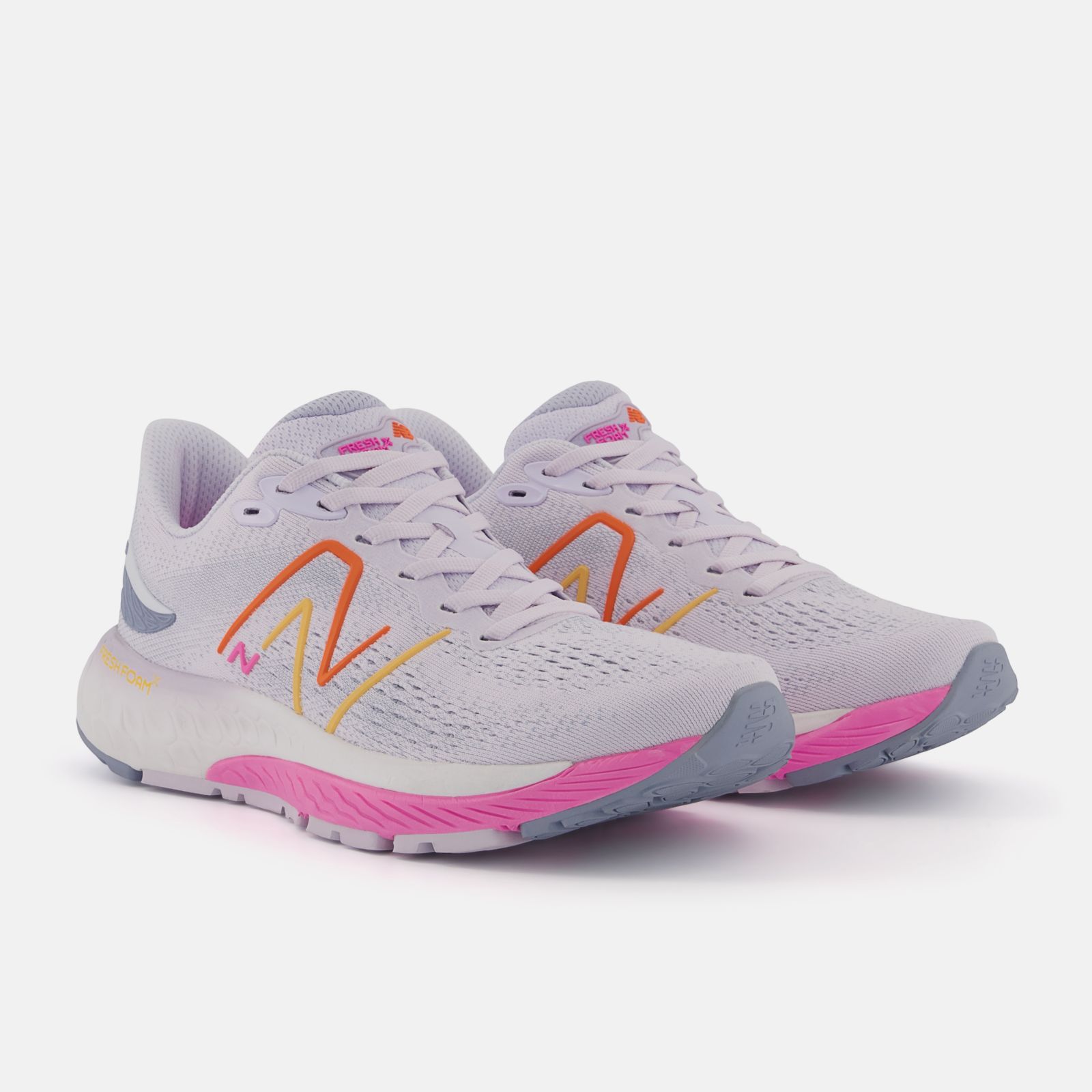 If the Shoe Fits: This model flat out rocks. It has a light but plush upper that feels soft around your foot without feeling restrictive and crowded. It is flexible and breathable with a soft, yet breathable double-knit engineered mesh. The heel cup is very plush, I had to go up a half size and I hear this a common trend from the NB tech rep. Standing around you really notice that fresh foam cushion. It is crazy soft with A new dual layer midsole featuring top-bed foam cushioning and underfoot Fresh Foam X makes for a soft step. The tread on the blow rubber outsole feels good going any direction. These could make for a great pickleball shoe, gym shoe, tennis shoe, you name it. The tongue was like the upper in plushness but still being flexible. I really dig the colors they have to offer also. They are neutral without being boring. The toebox is very accompanying, I have a wide foot and sometimes must opt to 2E width, but the D width fit just fine for me.
Do you have a race planned coming up? No? Check out our race calendar here!
Need help with endurance fueling. Check out ultraverse supplements! I have been using the T-30 in my mileage 60-100mile build ups and in my competition season to make sure I have all I need to push myself to the endurance limit. They have Endurance focussed supplements for recovery as well! Check them out here and use code 'Noah10' for 10% off!
Performance Review: A way I can describe and visualize this shoe performance wise is the older models seemed like an everyday car, 2008 Honda Civic(my current car). But this newer model is way more versatile, comfortable, feels streamline and makes you feel like you can go fast, like a 2020 honda civic(my dads car). I unfortunately could only do one run in this shoe, but I made sure to make the most of it. I easily got down to 6-minute mile pace on the 5-mile run, it was 97 degrees out I'll have you know. I threw in a stride before turning around, and noticed the pop from the layer of fuelcell foam in the midsole. Throughout the run I kept shaking my head at how comfortable the fresh foam felt and how consistent of a ride it was. This is one of the more truly neutral shoes I have ran in a while. It reminded me of the feel of some of the old Nike Pegasus that were my ace in the whole for a long time. By that I mean the shoe is flexible, you feel the ground through the shoe without sacrificing cushion. All paces felt good in this 880. I stayed in it for 25 minutes afterward just hanging out in the store. They were just extremely comfortable!
Previous Model: New Balance 880V11
Comparable to: Nike Pegasus, Saucony Ride, Mizuno Wave Rider, Asics gel nimbus, Hoka Clifton, On Cloudflyer, Diadora Volo.
Conclusion:
I was really impressed with this new 880. The combination of foams worked well together, and the improvements to the upper made the shoe feel very lightweight and comfortable. It's hard to not find a color that you don't like either. Anyone who needs an all-around comfortable and versatile shoe will really appreciate what the 880 has to offer. I'm excited with the improvements New Balance has made and look forward to this years models gaining popularity.