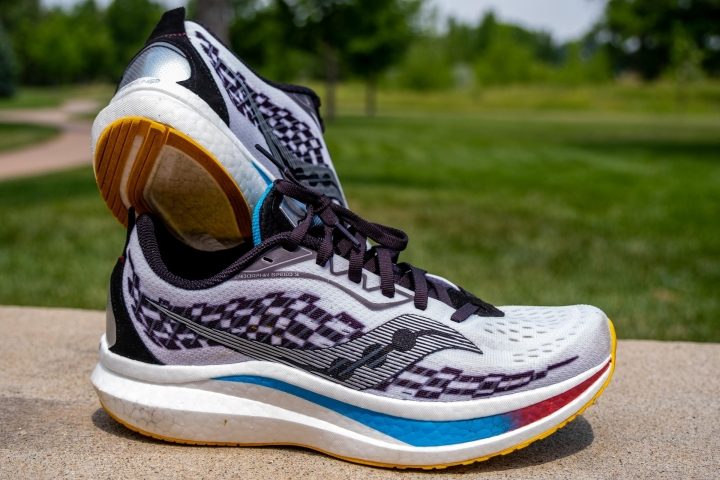 Run faster. Not harder. From tempo workouts to race day, the Endorphin Speed makes running faster feel easier.With a responsive nylon plate and ultralight, springy PWRRUN PB cushioning, it's a versatile take on speed-driven performance. And with plenty of durability to boot, you have a pair of shoes that can go the distance over the course of your run, and your season.
SUPPORT: Neutral
HEEL TO TOE OFFSET: 8 mm
WEIGHT: 6.9oz women's / 7.9oz men's
USE: Road Running, jogging, racing, walking, max cushioning
SURFACE: Road, Gravel, Track
Preview from Scoob
This shoe is at the top of everybody's list for a reason. Saucony's PWRRUN PB is super soft and spring. The shoe has the dynamic SPEEDROLL technology that transfers you to your toes with some pop courtesy of the full-length nylon plate. The improvements to the first edition were minor upper adjustments that stayed true to this shoes winning formula.
If the shoe fits
This shoe is fantastic. The upper is FORMFIT and it hugs your foot allowing a little bit of give to let your foot breath while you're out there pushing yourself. The feeling of the PWRRUN PB and nylon plate make you feel ready to perform at your best but without sacrificing the comfort that a carbon-fiber plate might take away. This shoe's SPEEDROLL is probably my favorite part, it creates a smoother stride no matter the pace. I like the thin tongue that is secure and accompanied by nice think laces. The shoe's traction meets expectations, and the durability of the shoe actually surprises. The outsole offers some durability with a strip of harder-wearing rubber at the heel strike zone, bordering the midfoot and a zig-zag configuration underneath the forefoot. The upper is a nice and breathable mesh that I thought might not be super durable but I think it is actually one of my favorite uppers around. It is nice, light, breathable, and flexible which helps my wider foot fit in the somewhat narrow toe box. While I think a wide would've helped prevent some hot spots when I was sprinting, my foot was still comfortable and secure. Shifting the ventilation zones to increase breathability, the upper stays almost completely true to the fit of the first model.
Performance Review:
This shoe meets the expectations of all of my performance needs. The high quality foam in the midsole was nice and soft and gave me some spring with the nylon plate. The SPEEDROLL gave quite the pop during a smooth takeoff. The shoe is incredibly light while also still having structure. Some people might want to add an insole if they are in need of a highly supportive shoe, because I thought this shoe lacked the structure on the inside of the foot in comparison to most. I wore this shoe for a variety of training. Shorter and longer runs, as well as short interval reps and long uptempo runs. Typically on the ends of the 8ish mile uptempo runs my feet started to almost feel sore on the arch of my foot. I think this could be avoided by using an insole. This also could be a personal issue because of my square shaped, wide feet. Regardless the shoe felt awesome in most aspects of training and was my go to for any high level and higher volume training days for months.
Previous Model: Saucony Endorphin Speed
Comparable to: Mizuno Wave Rebellion, Nike Vaporfly, Adidas Boston 10, Asics Novablast 2, New Balance Rebel V2, Hoka Mach 4, Reebok RunFast 3, Puma Deviate Nitro.
Conclusion:
The hype is real on this shoe. The midsole and plate combo is capable of elite training while being comfortable enough for everyday runs. The shoe's weight is close to nothing and it is nice and breathable. The shoe might lack support for some but can easily be fixed with a Currex Insole. Give this shoe a shot if you are looking to put some speed in your stride.