What a year it has been. There were a lot of ups and downs but at- least brands kept spitting out great shoes. We'll try and give a list of our top 5 as we move into a new year.
Trey's top 5 shoes of 2021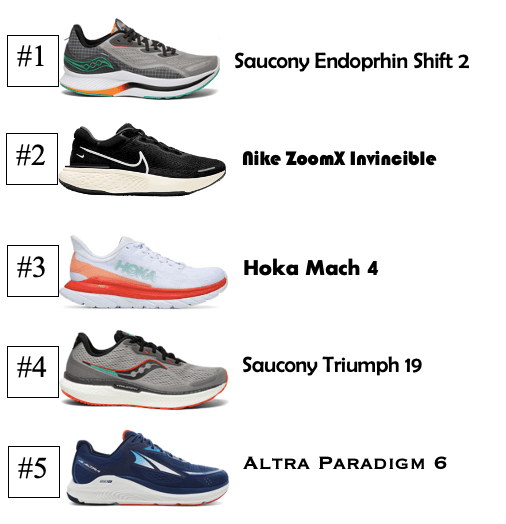 This shoe has been my go to for a while now, I really enjoyed the first version when it came out and this newer model has some great improvements for comfort and feel. The versatility and stability the shift close to perfect. It feels comfortable and even fast while still having just enough stability. More in depth review here.
If cushion is king then the Invincible is the winner that takes all. Nike loaded this shoe with their top-of-the-line ZoomX racing foam. The foam is one of the softest available right now, while still maintaining a really great energy return. The shoe also has a kind curvature to really make it one of the smoothest rides available. It also has a tighter flyknit upper that could be beneficial in these colder months. More in depth review here.
The Hoka wave is definitely here. If you haven't joined it is probably not a matter of 'if' but 'when.' The high cushioned brand has devoted time towards the aesthetic of their shoes, so now more people are trying them on and accepting they really feel good. The Mach 4 is a lower profile shoe that has Hoka's super soft Profly foam. The combo of that with the rubberized outsole gives the shoe the best of both worlds versatility I think many people would appreciate. You buy Hoka's for the cushion, but this shoe also allows you to buy it for the speedy feel. More in depth review here.
Similarly to the versatility of the Mach 4, having a soft cushioned feel but not too soft to where you feel like your aren't able to get moving, Saucony has the Triumph 19 with their PWRRUNPB+ foam. A large stack height this energy return foam makes running in them feel close to effortless and painless.
One of the other up-and coming brands that are gaining traction and popularity is Altra. With their zero heel drop and wider toe box, they make a super comfortable shoe. The Paradigm also features a load of foam and a quality bit of posting for stability. This shoe is super comfortable and stable and is built to be an ideal everyday running shoe for people.
Noah(or Scoob)'s top 5 shoes of 2021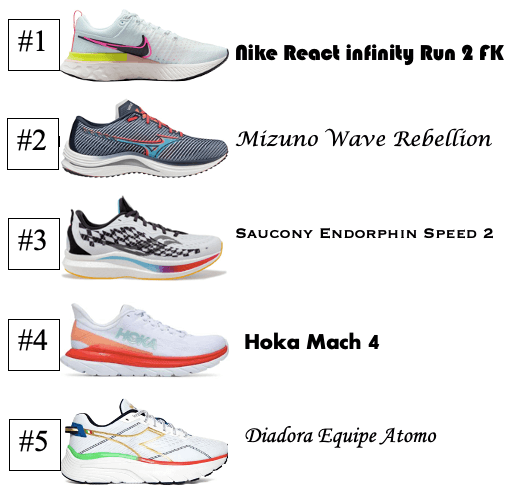 This shoe has been my go to for a while now, I really enjoyed the first version when it came out and this newer model blows that out of the water. The versatility and stability and looks of the shoe are just all so close to perfect for me. Don't change it please. More in depth review here.
When I heard Mizuno was making a glass plated shoe, that didn't cover the full length just the heel to the middle of the foot, I wrote it off in my mind. Once I was able to try the shoe though I prayed to Mizuno for forgiveness. This shoe is like a shot of espresso with a delicious frothed oat milk after only drinking drip coffee. The spring and pop from the flexible glass plate is just enough, still allowing it to feel comfortable during everyday easy miles. But you can put the shoe to the test in fast workouts and races if you like. Join the wave, try the rebellion. More in depth review here.
Might receive some flack for putting the rebellion before the speed, but I still really, really enjoy the Endorphin Speed. This shoe is probably the mass' shoe of 2020 and 2021. Back to back meme. The Speedroll technology in Saucony's endorphin series is top notch. Once again I love the versatility this shoe offers. The speed is familiar with progressively faster long runs, shorter intervals, and even some road races. The easy miles in warm ups and cool downs lead me to believe the shoe could be an everyday trainer too, but I am sort of stingy with my miles on them ;). More in depth review here.
All hail the Mach 4. This was probably in the running for a bunch of fellow shoe nerds shoe of 2021. The award for most improved would definitely go to the Mach, you couldn't get people to wear the 3rd version if you tried. This newer model as Trey touched on has the best of both worlds, feeling super soft but firm at the same time with the combination of foams. With that touch of a meta-rocker hoka is known and loved for, this shoe is one of my favorite to put on still. More in depth review here.
If you have been in Hoka's for the past year you might've noticed their lack of inventory right now. While this is frustrating, and I hope the issues are resolved soon, there are other options for light high-cushioned running shoes. The newest of which is the Diadora Atomos. This new trainer for Diadora is lightweight, supportive, and highly cushioned. Not to diss Hoka but it feels like the Clifton but better. However for 190$ I would hope it is better. The high price tag comes from being designed and manufactured all in Italy, no outsourcing for cheaper labor here. While it might be out of your current price range, maybe a giftcard to MRC could help you make that investment your feet with thank you for. At the very least, stop by and give them a try and if we are out of your hoka's. More in depth review coming soon.
Honorable Mentions
Top Shoes of 2021 voted on by YOU and your purchases at MRC